Every time I put on the headset and jump into Quill, I cannot stop smiling. I'm having so much fun and feel so much more connected with every single character and asset I create now.
My name is Sam Luck and I am a VR Artist and Animator from Toronto, Canada. I've been working in Quill for over two years and I love having complete control in creating my own narratives. Quill has the power to allow creators like myself to create narratives from concept to final film/experience.
In 2017, I attended to the Creative Talent Network Animation Expo (CTNX), and the only panel I was interested in was "Designing in VR with Goro Fujita". At his talk, Goro said these few words that changed everything, "I made a short film in VR." The moment he said this, it lit a fire in my spirit to pursue this medium and tell animated narratives in VR.
After CTNX expo, I returned to Toronto and bought an Oculus Rift headset as well as a new PC on the Black Friday sale, and started creating pieces in VR.
This summer, Mi Concept + Design, a theme and water park design company where I work as a Concept Designer, tasked us to create our own illustrations and concept designs for potential theme park attractions. I was inspired to pitch concept art for an interactive VR dark ride experience. After researching various theme parks and attractions, I realized that a ride for "Day of the Dead" has never been made before so I dived into research. The project was called "Day of the Dead - A VR Dark Ride Experience".
Part 1: Concept and Ideation in Photoshop
I started by creating a 2D illustration and used some photo manipulation to match it with the style of Mi Concept + Design. I was happy it evoked the colours and atmosphere I wanted but it was not the complete space I envisioned because I wanted to push this piece further with my newfound skills of world-building in VR with Quill.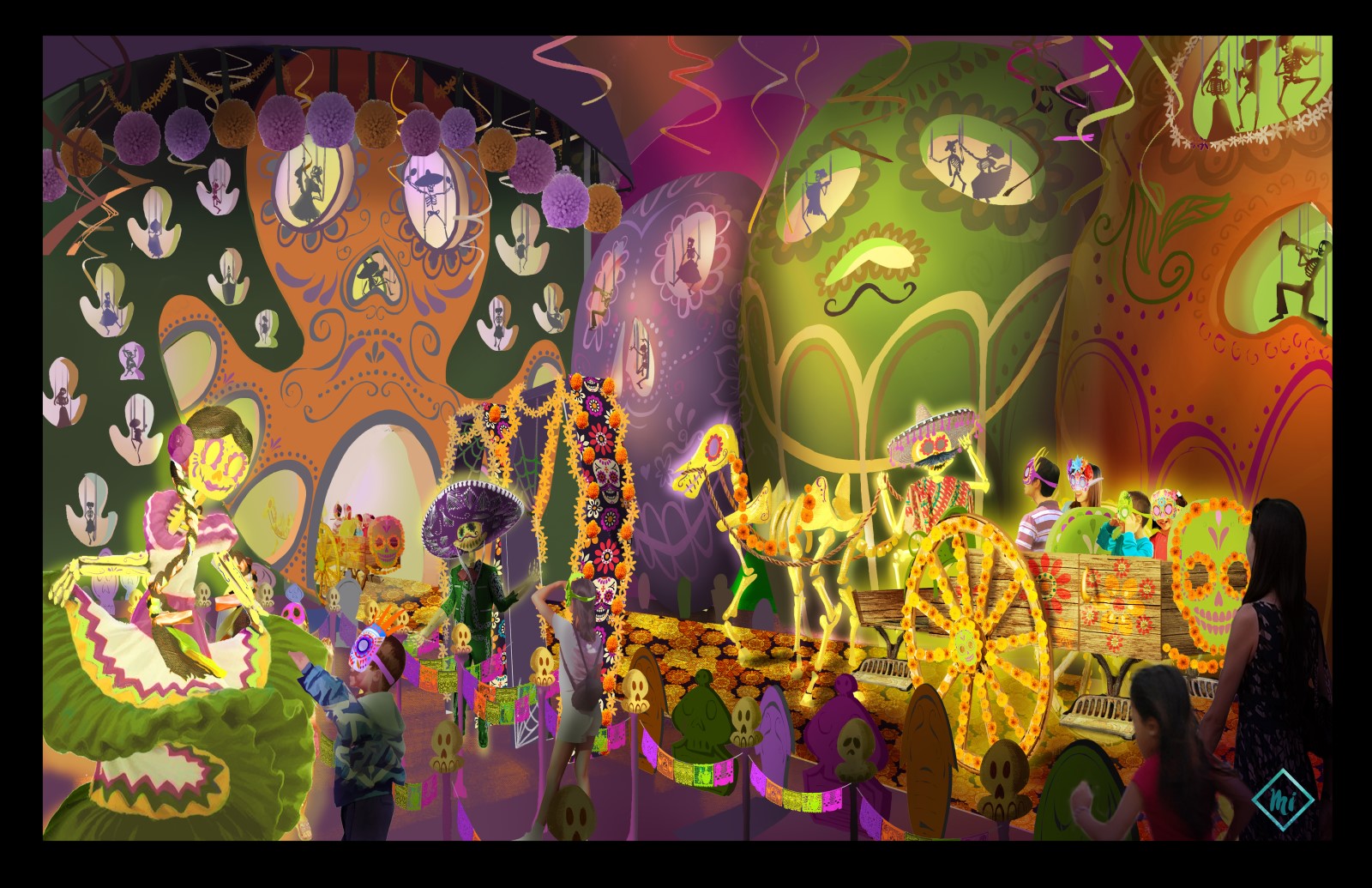 Part 2: Mocking up in Sketchup
Before I jumped into Quill, I wanted to create a grey-box model in Sketchup to set the height and distance of the major assets within the scene and position them correctly along a fairly accurate grid. When you are designing for theme parks, everything you design should always be related to the proportions of the rider as the audience. I wanted to make sure the room was always relating to the height of a person in both walking through the queue and the ride carriage.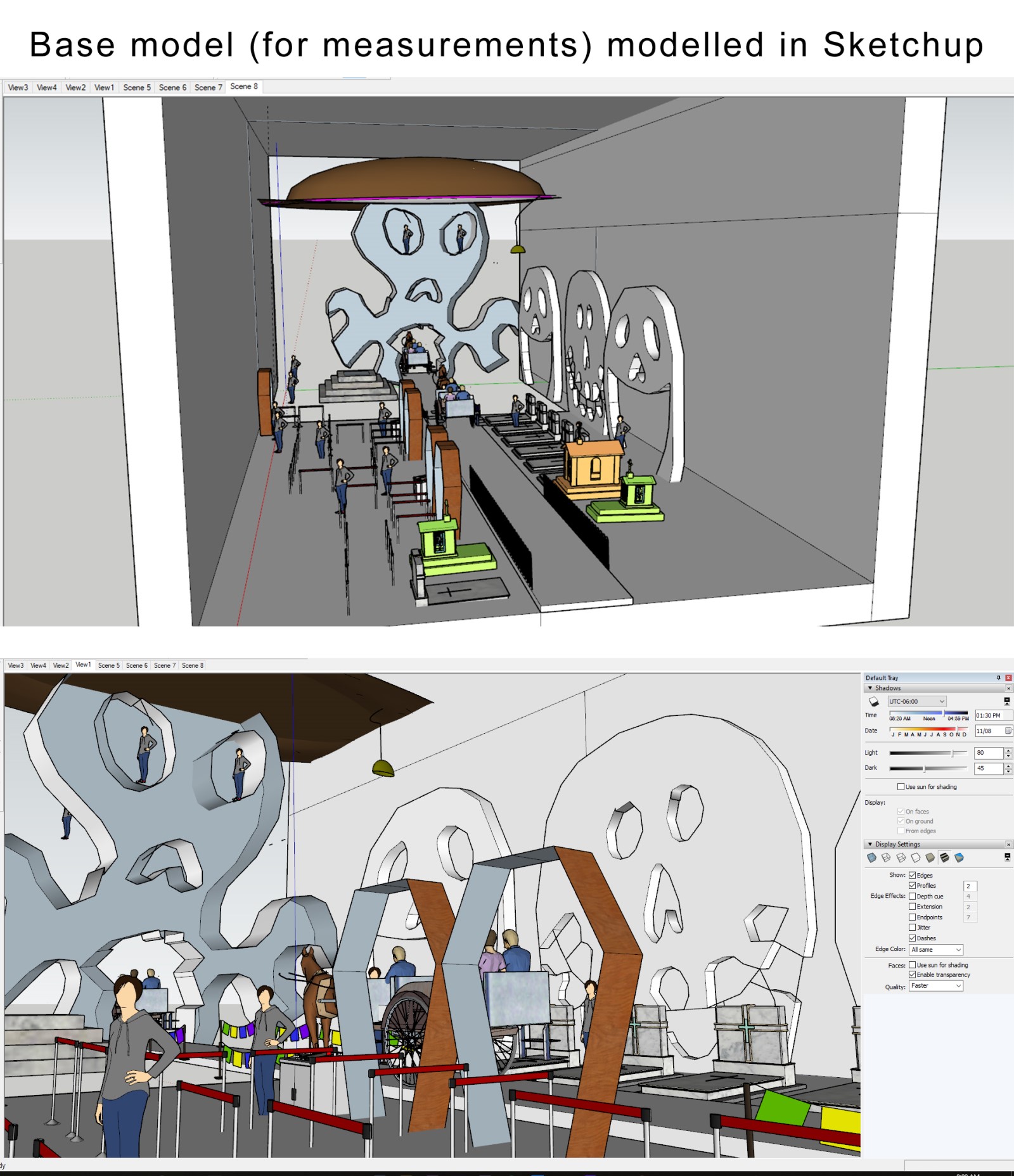 Part 3: Building the Scene in VR with Quill
This is where I spent the most time and had the most fun. I really wanted to push what Quill could do for the amount of details I could add into a scene. I had done detailed pieces in the past, but I really wanted to have a lot of detail in the graves and offerings (ofrenda) on the graves.
Part 4: Lighting and Rendering in Blender
One of my co-workers, Adam Homonylo at Mi Concept + Design showed me beta version of Blender 2.8 and its new real-time renderer, Evee, so I decided to bring the highly detailed static model from Quill into Blender and did all the lighting in Blender.
I remember the day I placed in all the lighting and used Evee for the first time. I had never felt so excited about a piece of work I've done in my life. I was speechless. My 3D vision I had imagined in my head had truly come to life and become more than I could have imagined.
Part 5: Blender to Photoshop Painting and Submitting it to the Concept Art Awards
Around this time LightBox expo had announced they were taking submissions for the Concept Art Awards. I felt inspired to submit the first VR piece to the awards under the "Independent Art - Environment Concept Art Submission" category. Here is my submission, 90% drawn in Quill, 10% post production work with lighting in Blender, and people drawn in Photoshop.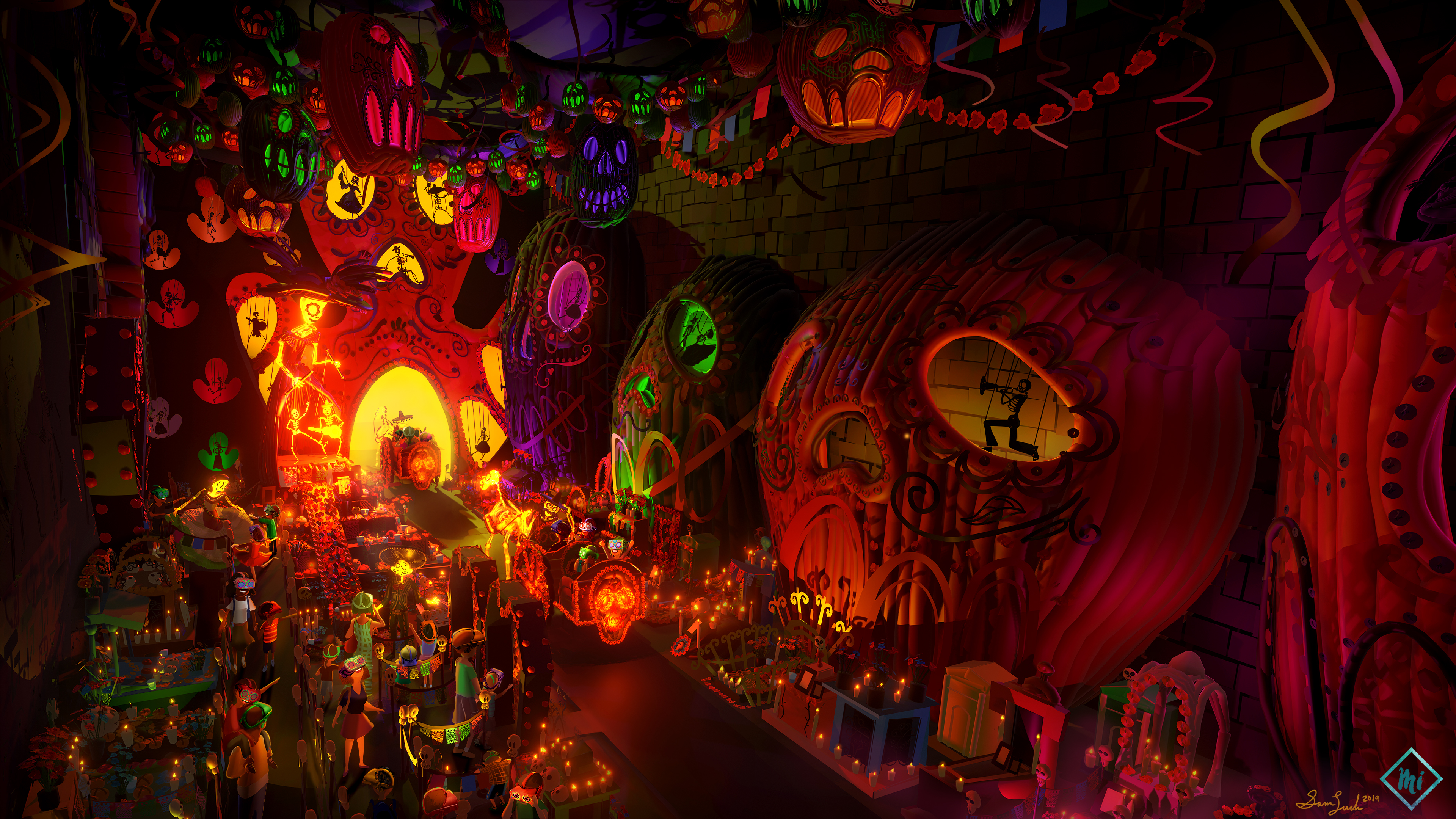 Part 6: Animation in VR with Quill
Once the submission was finished, I wanted to animate this scene to bring it to life. Here are some of my small tips about animating with the Grab and Colorize tool in Quill:
One major challenge was keeping the file organized. Often, I had trouble finding objects in various layers even though I organized it fairly well. If I were to go back through the process again, I would better organize my layers and rename them to remember specifically their contents, instead of going through every layer to find the right object. Keep those layers organized!
When I design or animate in 2D, I imagine the scene in my head in 3D. Often, 2D concept is not quite what I had imagined. With Quill however, I can build a scene directly 3D and still express my work with a whimsical tone, like I do in 2D. Quill enables me to concept and animate quicker than I could have ever imagined!
For my next project, I'll be exploring narrative storytelling. I am currently in development of a short VR film "Korner" that will be made in Quill. You can check out the progress here.