Matt Schaefer - "Alex's Sci-Fi World" was a blast to create because it encouraged me to tap into every discipline I studied over the years. Quill is the only tool that combines all these disciplines into one place enabling me to push storytelling in a totally new direction.
I truly believe Quill is a revolutionary tool. Not only does it empower artists to become multi-disciplinary forces of creativity, but it's also extremely accessible. I consider myself a traditionally trained artist and designer. This includes drawing, painting, sculpture, 3D modeling, digital illustration, UX, graphic design, etc. However, animation is not on that list. Quill's features make it easy for me to pick up animation without traditional training. In Quill, I can approach animation organically and end up with a uniquely hand-painted result. Quill has even motivated me to go back and pick up animation fundamentals now that I have put in a few hours. I can't imagine what I will be able to do next!
The "Alex's Sci-Fi World" project started when I was admiring one of my friend's Alex Steven Martin illustrations. His artwork is so rich in character that I felt compelled to bring it to life in VR. The challenge was that Alex's work is extremely dense, detailed, and has a heavy comic book style. I wasn't sure if I could even pull it off in VR. At the time, I had completed a few VR paintings, in other styles, and experimented on them for the purpose of telling fun micro-stories. I also knew that Quill's animation update was just around the corner. The timing felt right to take on this challenge.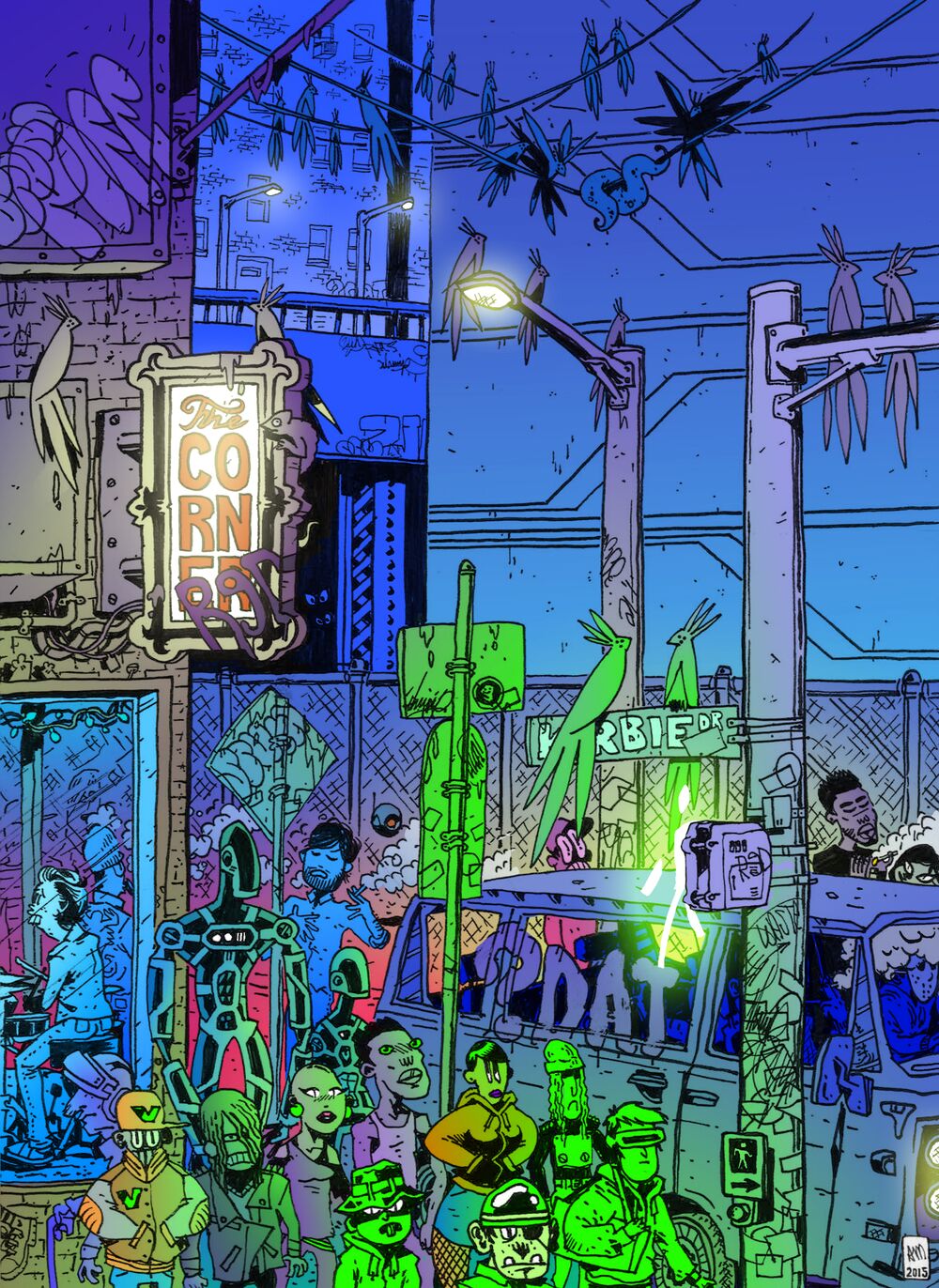 The project plan consisted of two phases. Phase one would feel more like a short film by connecting various scenes from Alex's illustrations. Hero elements like hover bikes, cars, and droids would act as visual threads stitching the scenes together. I used Quill's import feature to share these hero elements from scene to scene which saved a lot of time in production. The video would eventually lead to Alex's "Crosswalk" illustration as the hero scene. That's where I would spend majority of my effort in fleshing out the details. Phase two would eventually bring the more detailed "Crosswalk" scene to life by using Quill's newly added keyframe animation features.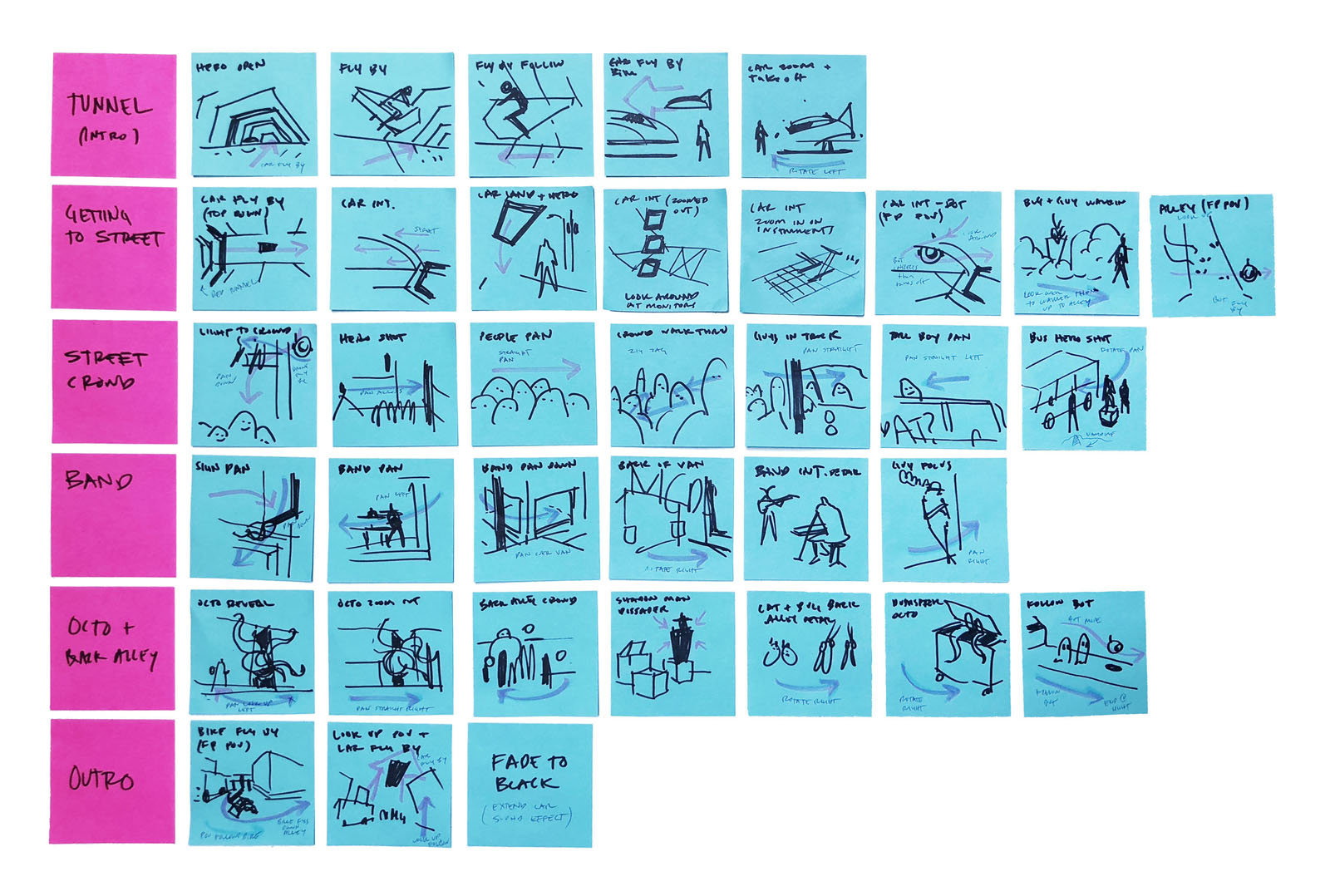 Over the course of 4 months, during my free time, I painted the various scenes in Quill while Alex worked on original sound designs and music. Our process was very collaborative. I often sent video updates to Alex and shared ideas for new hero elements. These designs included a futuristic car interior, hoverbike design, and some new creatures.

My first task, when painting the "Crosswalk" scene in Quill, was to translate Alex's illustration from 2D into 3D by blocking out the environment. This is where my past experiences in architecture came in. I used Quill's straight line tool to plan out the street and extrude building walls. This made sure the buildings aligned to an axis which gave me a solid foundation to start adding details. I also applied this same workflow, to the vehicles, when translating 2D designs to 3D.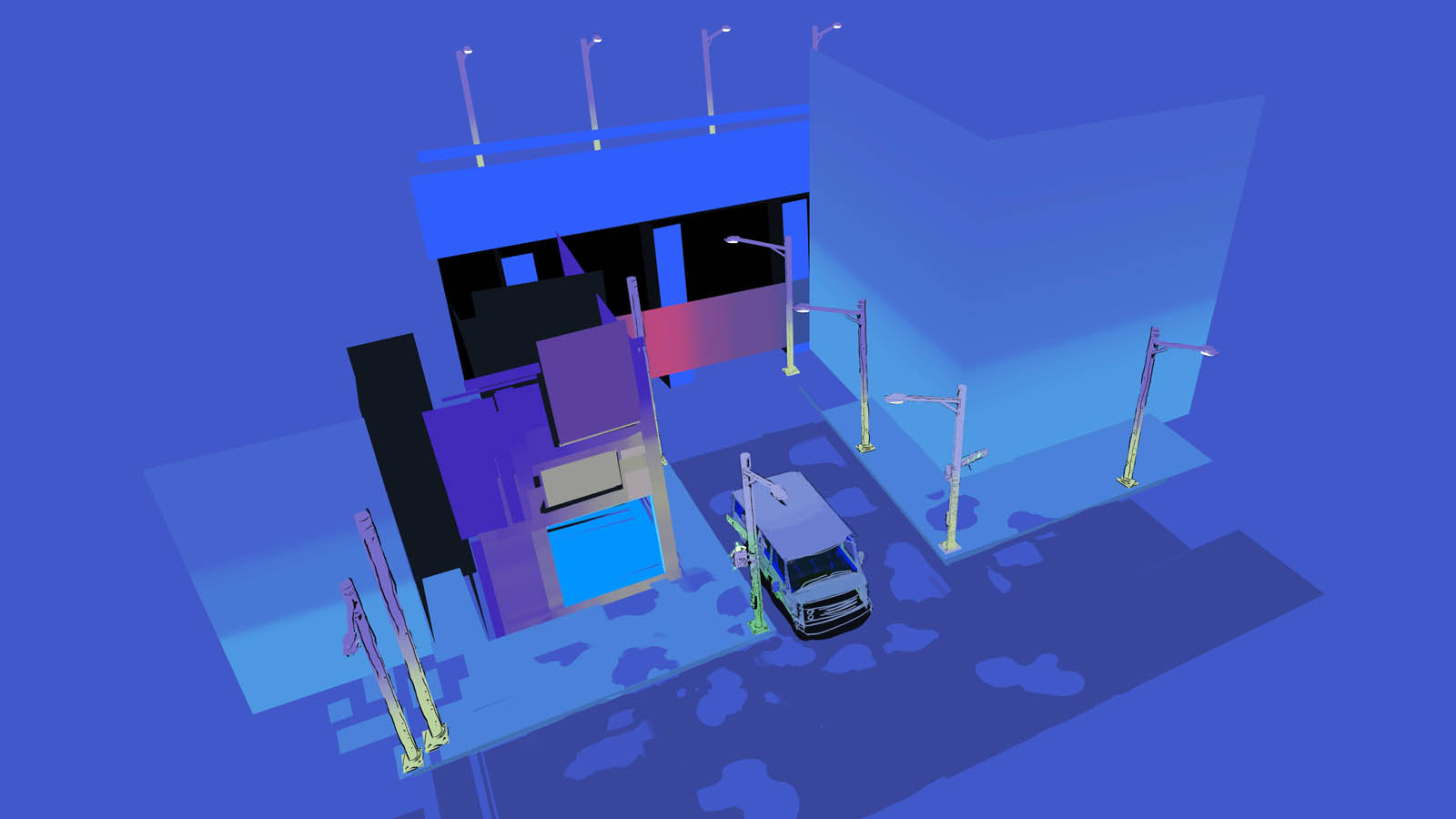 Short video showing 2D to 3D translation of the hoverbike design:
I quickly realized, when setting up the environment, there was a lot of space outside of the original illustration's boundaries that needed to be filled in. I mined Alex's other illustrations looking for additional characters and environmental elements to add in. For an easy reference I created a palette of Alex's various illustrations, by importing the images directly into the Quill file, and positioning them within reach around the painting.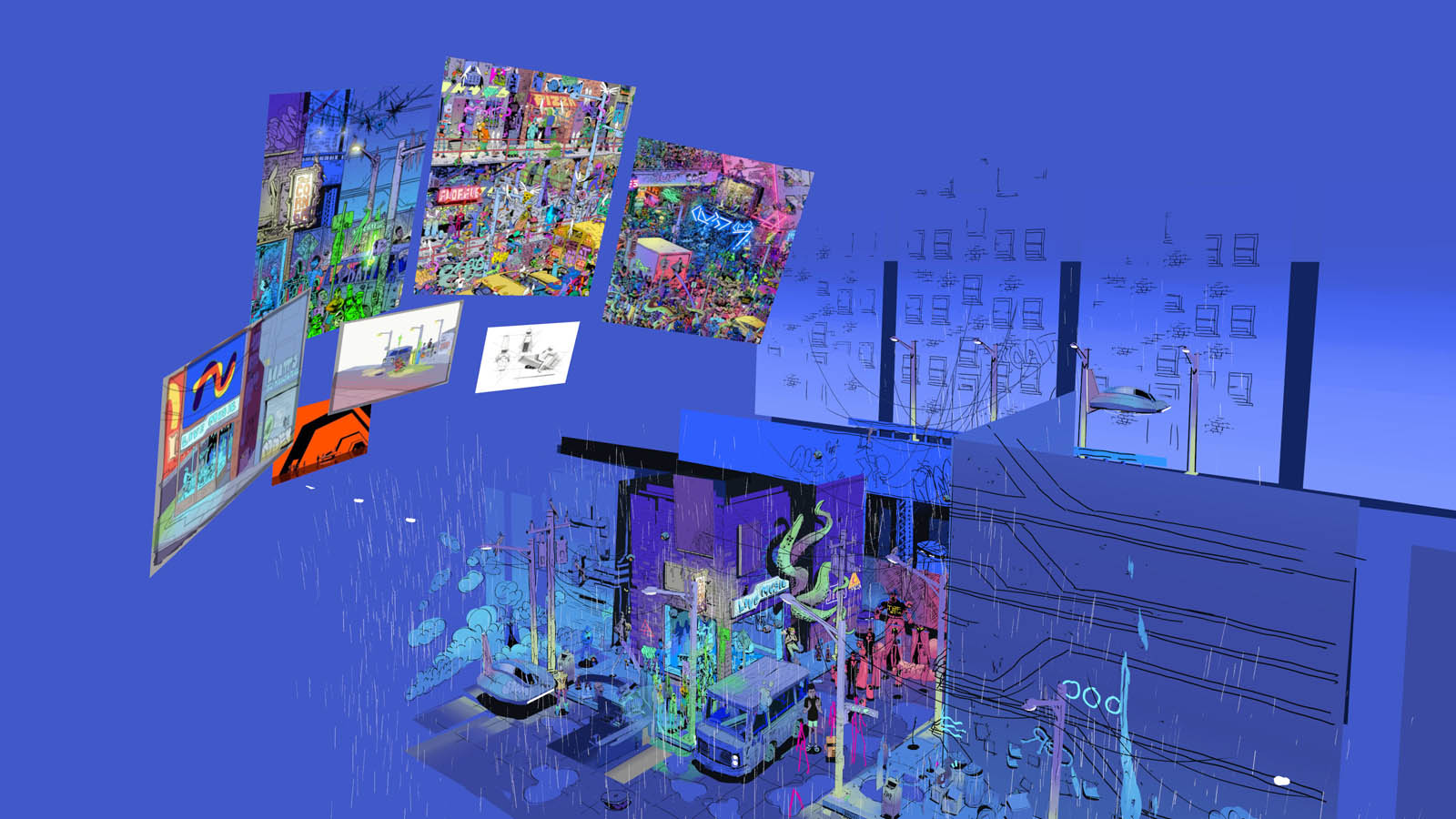 Creating the comic book / outline look proved to be the most challenging and time consuming aspect of "Alex's Sci-Fi World." Typically, with 3D models, outlines are handled using shaders. In Quill, outlines need to be hand drawn. Although this took a lot of time, it gave me total control over how the painting looked. The end result is organic and has a hand-crafted quality. This is made obvious by all the mistakes and imperfections. I used Quill's round brush to make sure the onlines were equally visible from all angles.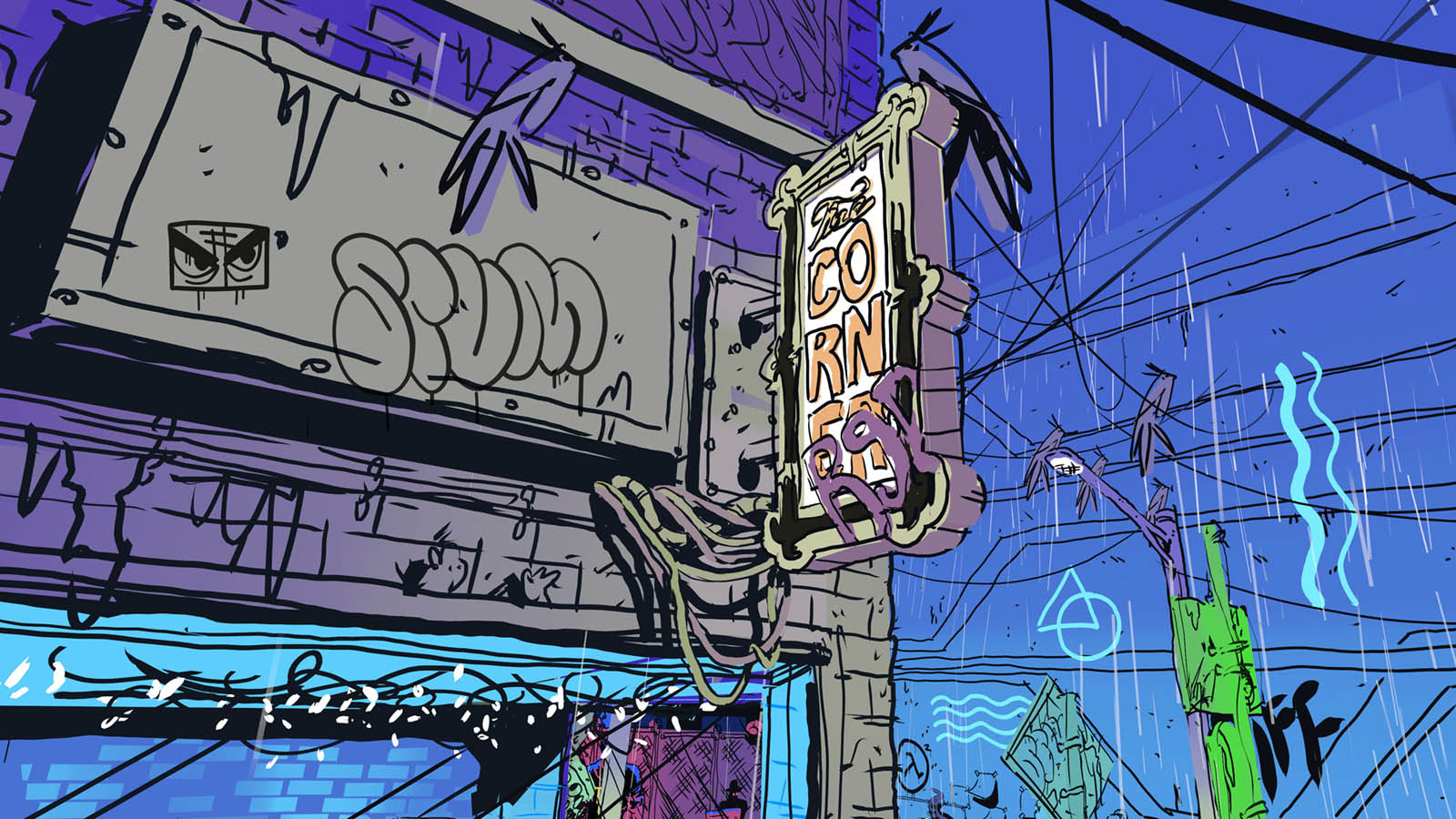 Once Quill updated with animation everything changed! I thought to myself "Alex's Sci-Fi World can now reach its true form!" Since the scene's foundation was already set I just needed to "activate" various elements with keyframe animations. To do this I could use one of the many animation techniques Quill offers. One such technique uses the Oculus Touch controllers as a way to spatially paint effects by hand. This technique allows artist to perform the animation while Quill captures it in a loop. The end result feels organic and natural. It's an extremely accessible way to create beautiful animations without having a deep understanding of traditional techniques. Something that I personally appreciate. This is how I brought life to the fire, smoke, and insects in "Alex's Sci-Fi World."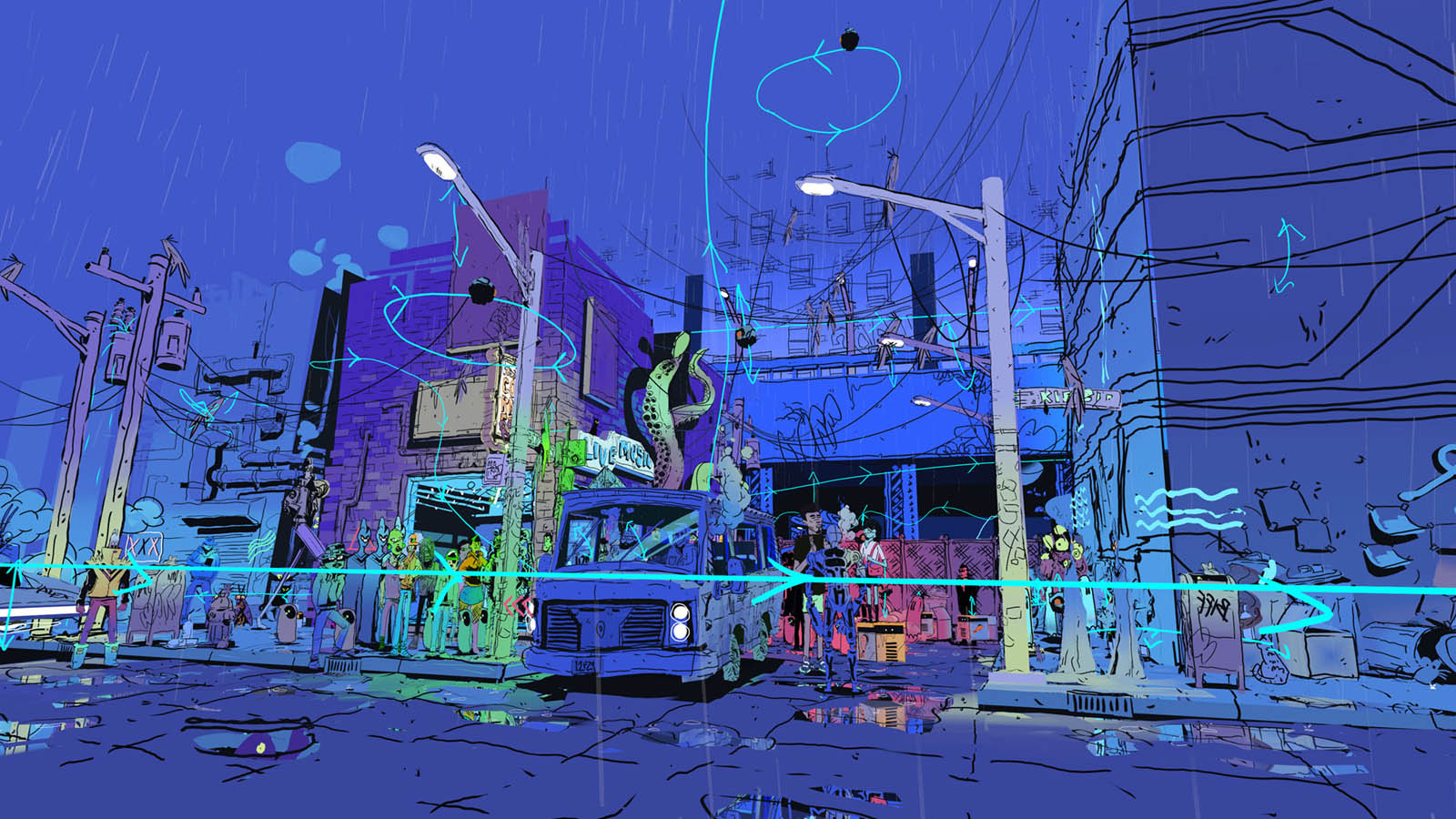 The ultimate goal for the animation was to lead the viewers from one micro-story to the next and encourage immersive exploration. Where's Waldo was a big inspiration. I loved the game of looking for Waldo. Once I found him it was the micro-stories that kept me coming back. I wanted to explore every inch of the illustration and discover all the artist's secrets. VR satisfies a similar craving, only now artist have access to the power of immersion! This is the magic I was looking to capture in "Alex's Sci-Fi World." One example of these micro-stories is where I animated a damaged droid, that hits a pole, and causes an electric shockwave. The shockwave zaps some birds on the powerlines as the electric pulse moves from its source. The electricity then flows to adjacent power lines, leading the viewer to other micro-stories in the scene. In a traditional video this would be sequenced out into multiple shots. In VR it plays out in loops all around the viewer allowing them to freely explore the story as it plays out.
The futuristic car interior was one of my favorite parts to work on. Here I combined my professional experience, designing interfaces, with my passion for concept art and sci-fi films. Syd Mead, Moebius, and Ridley Scott are big influences for both me and Alex. So the design of the car interior worked out naturally.
Short video of car interior:
Another key aspect to "Alex's Sci-Fi World" is the audio. Since Alex recorded original music and sounds for the project, the end result feels completely authentic to his universe. Editing was used to amplify hero elements and help guide viewers, contextually, from shot to shot in the video. Quill also allows artists to add spatial audio to their files which elevates the sense of immersion dramatically.
"Alex's Sci-Fi World" challenged me to bring out everything I learned over the years as creative professional. Quill's accessibility and range of features provided infinite space for creativity to explore a totally new way of expressing Alex's artwork. The combination of the unique challenge, paired with a revolutionary tool, resulted in a expressive animation that I couldn't have predicted, even just a year ago. I hope this project encourages others to reach for a VR headset, jump into Quill, and create something totally radical!
Matt Schaefer